Here at RightTrack Learning, we are very lucky to have such a wonderful team of people, and we want you to find out more about them too!
So, meet Steve…RightTrack's Learning and Development Consultant, who has been part of the business for over twenty years.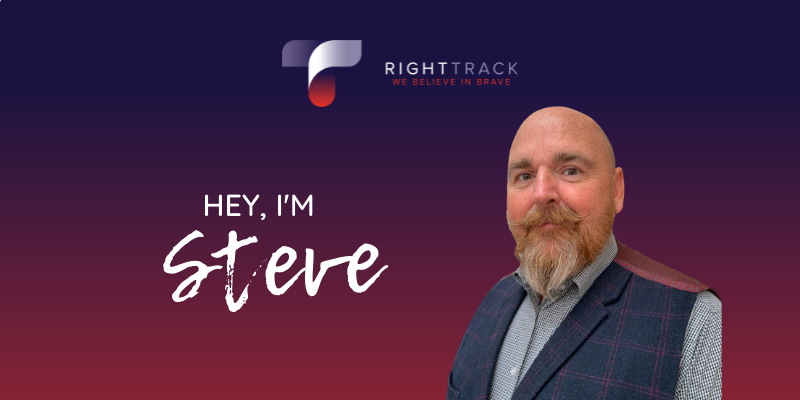 Name:
Steve McManus
Job Title:
Learning & Development Consultant
What is your role at RightTrack?
My role is to design and deliver a range of different management development and business skills training programmes.
So there isn't an average day as such. One day I can be designing and creating a training session; the next, I can be travelling and delivering a training session in person or online.
What do you like about your role?
I love meeting and connecting with others, so one of the best parts of my role is the people. Whether they are attendees on training events or the team at RightTrack Learning, my role is all about people.
As a naturally supportive person, I get massive motivation from seeing others develop and find alternative, more effective methods for dealing with their challenges.
Another passion I have is for travel. In my role, I have been able to visit and work in many different exciting regions, including Central America and the Middle East. This experience has taught me that although every area and organisation can vary culturally, our ability to connect with others is central to our overall success.
I am always grateful to the people that I meet through my work. They regularly provide me with interesting, alternative and energising perspectives and viewpoints.
What has been your biggest achievement?
I would like to think that my most significant achievement professionally is to have made a difference for the delegates that I have worked with over the last 20+ years. We all need support and to face our challenges. I feel very positive and grateful to those that have been instrumental in my development. I hope to have played a similar role for others.
Outside my working world, I am a very keen skier. My best (and most challenging) achievements skiing are some of the famous 'trophy' descents in the Alps. These, for me, include the ridiculously steep with car-sized moguls, Le Pas de Chavanette and the varied Vallée Blanche descending Mont Blanc into Chamonix.
What does being brave mean to you?
Being brave for me means choosing to stretch your comfort zone intentionally. Often this is accompanied by emotions such as anxiety and apprehension.
Bravery is recognising and acknowledging those feelings but not allowing those to stop you from acting.
Everyone will have their challenges to face, and sometimes these may seem small and insignificant to the onlooker. However, the courage needed to be brave is constant and shouldn't be underestimated.
One of the phrases I say to myself in these situations is, "I am becoming comfortable, with the uncomfortable".
Explain a time you were brave…
There have been many times when I have had to be brave. One time I clearly remember was when I froze with fear on a mountain ridge on Mont Blanc. I was skiing off-piste with a Guide, and the wind was howling so strongly I could hardly stand, and I couldn't hear anything. My only route out of the situation (and home to safety) was across a narrow ridge with frighteningly steep rocky drops on each side – I am not very keen on heights.
As terror began to set in, my breathing became more panicked, and my arms and legs weakened. Sitting in the snow, I thought that the situation was impossible. Thankfully, I had a skilled Guide with me, who reassured me that everything was good and that I needed only to make it 100 meters before we could drop off the ridge and be out of the wind.
I can honestly say that was the longest 100 meters I have ever walked. Well, I would love to say that I walked it. In reality, it was more of a crawl on all fours! I am to this day grateful for the kind and supportive approach of that Guide. I am sure he had experienced this situation before (honestly, that ridge is truly scary!), and it certainly didn't present him with a challenge. Even so, I was not made to feel foolish. If it hadn't been for the Guide, I would probably still be there now.
Describe your ideal weekend…
My ideal weekend would be outdoors and doing what is dependent on the season.
For me, there is nothing better than being in the mountains, with fresh snow and blue skies in the winter. I enjoy narrowboating and navigating the inland waterways and canals with my family and friends when this isn't possible. My perfect weekend would definitely involve others.
To contact Steve or any of the team, email enquiries@righttracklearning.com or phone 0121 222 7313.