Building an inclusive culture within the NHS workforce
NHS England (previously Health Education England) originally approached RightTrack Learning in 2012 to create a series of bespoke Equality, Diversity & Inclusion awareness workshops.
Throughout the decade-long partnership, RightTrack Learning have continued to support the NHS organisation on their D&I journey by:
Continuously designing ED&I awareness training content which aligned with their core objectives
Writing and implementing thought-provoking scripts based on real-life topics, via live actors and recorded videos
Creating follow up resources to keep the learning alive after the sessions
The Story
NHS England is responsible for the delivery of education and training for postgraduate medical and dental and multi-professional services within the NHS. Although a national organisation, NHS England operates through local presence, splitting its activity into regions with RightTrack Learning supporting the delivery of training for multiple regions and departments over the 10-year partnership.
With the complex nature of the people-facing organisation, RightTrack Learning have worked closely with David Turner, Quality Lead at NHS England North East North Cumbria, to create tailored training content. Supporting NHS England's ED&I journey, RightTrack Learning ensured that all training content aligned with the vision and key objectives. A team of experienced script-writers developed scenarios, played out by live and recorded actors, which were impactful, organisation-specific and based on key messages which NHS England wanted to get across to the delegates.
The course was delivered through a mixture of face to face and virtual means, involving the senior teams at NHS England North East North Cumbria, and the senior teams at all local hospital trusts within the region.
The Programme
Key learning objectives for the sessions included:
Develop awareness on equality legislation
Understand bias and how it can show up in our communications and decision making
Learn about privilege and how our personal experiences can create blind spots
Recognise our responsibility in challenging discrimination, using practical tools and techniques
The training enabled participants to engage with real-life scenarios, covering topics including complex legal challenges in disability, to daily on the job scenarios reflecting patient, staff and learning discrimination dilemmas. Recorded and live actors were used throughout the sessions, giving attendees the opportunity to test out different ways of handling sensitive conversations, whilst also allowing them to reflect and learn in a safe space.
Through a situational learning approach, drawing on experiences from the clinical floor and office, it equipped junior doctors and other staff to more confidently engage with complex ED&I scenarios.
The Impact
The awareness and confidence of the teams trained has increased, especially when dealing with complex cases. Across the multiple sessions delivered to NHS England, RightTrack Learning have received positive comments such as: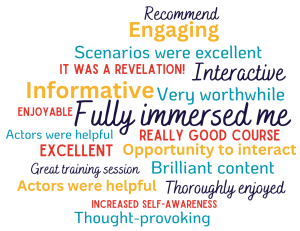 David Turner, Quality Programme Lead at NHS England North East North Cumbria said:
"ED&I is part of the duty of our role, and objectives to our committee. We wanted to go beyond the required statutory and mandatory training, making this the next step as part of our advanced learning programme.
"Through situational learning resources, the training allowed us to understand and immerse ourselves in real-world situations and the complexities we might face, making us better equipped to approach them in future.
"The courses with RightTrack Learning always evaluate really well with our participants, which is incredibly important when evidencing NHS return on investment. It is often the people you might think will be reluctant to engage that tend to give the courses the highest praise. We rarely receive negative feedback and find those attending leave with more confidence and awareness dealing with complex situations as they've had a safe space to ask the difficult questions."
download