Here at RightTrack Learning, we are very lucky to have such a wonderful team of people, and we want you to find out more about them too!
So, meet Vicci…Sales and Operations Director here at RightTrack and our very first employee thirty years ago!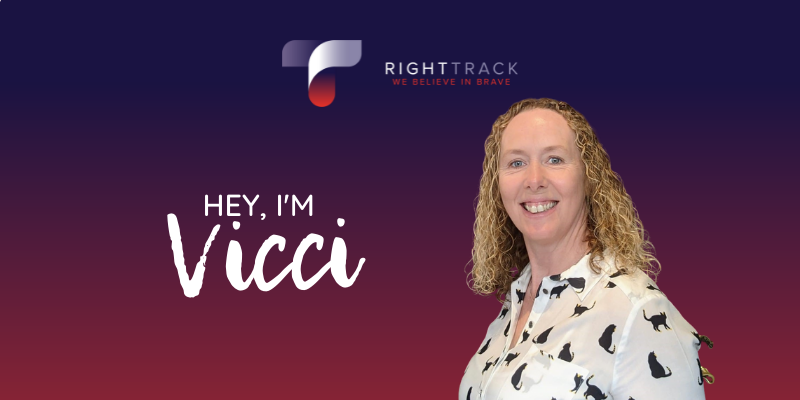 Name:
Vicci Whelan
Job Title:
Sales & Operations Director
What is your role at RightTrack?
My role is customer-centric (just the way I like it!).
I am by a customer's side from the moment they contact us for support with their people development solution, all the way through to ensuring that by the end of each project we have exceeded expectations and established a long-lasting relationship.
What do you like about your role?
The people interactions! I love speaking to everyone from initial enquirers, to long-standing customers, suppliers, the team and everyone in between. It is important to me to build meaningful human-to-human relationships, that go beyond 'just getting the job done'.
What has been your biggest achievement?
I joined RightTrack Learning as a shy 17 year old with very little experience of the world. Fast forward three decades to today, and I am a Director and co-owner. That is without doubt my biggest achievement, and of course, being a mom!
What does being brave mean to you?
Being brave for me, is facing those situations that make your belly 'feel funny'!
Too many people let that uncomfortable fear-driven sensation stop them in their tracks. If you can find the courage to carry on regardless, your experiences and relationships will flourish.
Explain a time you were brave…
I think we all show courage in our own ways every day, in both the big and small things we achieve.
If I had to highlight just one personal example, it would be completing a half-marathon. I had to dig deep to maintain my training regime throughout the depths of winter when it was dark and ice-cold. But it was such an achievement that I'm now toying with the idea of a full marathon!
Describe your ideal weekend…
Ideal weekend would some me-time in the gym and enjoying a long walk with the dog. Then cinema or movie night with my husband and daughter, and as much time as possible spent enjoying the garden and hot tub with friends.
Follow Vicci on LinkedIn or contact the team at enquiries@righttracklearning.com or phone 0121 222 7313.
Courageous Conversations & Speaking Out
Find out more about our Speaking Out training. Enquire about our next cohort of our open programmes, or train in-house, face-to-face or live-online.