Diversity and Inclusion Calendar
2023 Download
Benefits:
Supports D&I initiatives
Increases diversity awareness
Provides essential information on key dates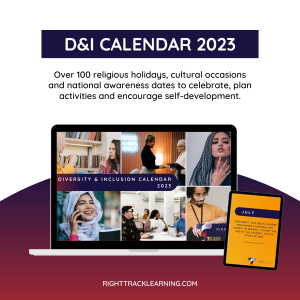 Diversity & Inclusion Calendar 2023
To create an inclusive workplace, it is essential to be aware of all religious holidays, cultural occasions and national awareness days, weeks and months, such as Eid, Chinese New Year, International Women's Day and Black History Month (to name but a few!). But keeping track of the key dates can sometimes prove difficult.
So, to get you started, we have produced a Diversity & Inclusion Calendar 2023, which can be used as a guide to support in-house diversity and inclusion strategies and put them into an actionable plan.
Download your calendar, grab a cuppa, and get planning your year! The toolkit will download to your computer 'Downloads' folder.
DOWNLOAD CALENDAR
All about the calendar...
Who needs a Diversity and Inclusion calendar?
In short, anyone and everyone! For example, it can be used by:
Senior management and HR professionals, not only to ensure the company respects and celebrates religious and cultural events but to also plan relevant activities during this time
Marketing to plan content around key diversity and inclusion dates
All employees to encourage self development and increase their own awareness.
How do I use it?
Simply download the calendar PDF (which will automatically appear in your 'Downloads' folder) and save it to your desktop, upload it to your intranet or circulate it around your team. The calendar can be used as a tool to plan events and schedule work, whilst also increasing your own awareness of diverse occasions. Please note, the list of events isn't exhaustive, there's so many more observances and occasions which you can celebrate, however this calendar can be used as a starting point. All events included were correct at time of publishing.
Diversity & Inclusion Calendar 2023
Download the D&I Calendar now for over 100 national awareness days, religious holidays, cultural occasions to celebrate, plan and encourage self-development.
Explore the Inclusion Perception Gap in your Organisation
Research suggests there is often misalignment between how leaders and the rest of the employee population perceive company culture. When leaders drive change based on their own experiences, and the lived experiences of their closest peers only, they are less likely to achieve desired results. 
By inviting open and honest feedback from all employees through an anonymous survey, we can gauge how different groups of people experience the workplace with regards to five difference aspects of the organisational ecosystem. Data is compiled into a comprehensive report from which we draw meaningful insights for leaders to reflect on as part of the development journey.
There is no charge for the Culture Diagnostic, however, in order to collect a meaningful data set this option is only available to organisations where we can gather responses from >250 people.
We invite anonymous feedback from your people regarding five different aspects of your company culture:
'Belonging' – does your company culture foster a sense of inclusion for all people to thrive?
'Role Models' – do people managers have the skills to role model excellence and build exceptional teams?
'Approach' – is your vision and strategy clearly communicated and supported by the right policies, processes & data insights?
'Values' – are your workplace behaviours clearly defined and regularly reviewed through meaningful performance management?
'Education' – is there a strategy in place to continually develop and strengthen your people and teams?
download