Here at RightTrack Learning, we are very lucky to have such a wonderful team of people, and we want you to find out more about them too!
So, meet Claudia…Managing Director at RightTrack.
The company, along with the work and values, has always been a big part of Claudia's life – from doing homework in the office after school to now leading the business with RightTrack's first ever employee, Vicci.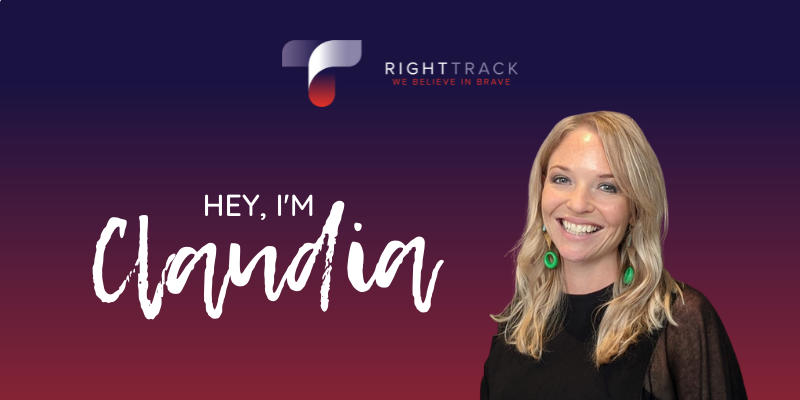 Name:
Claudia Cooney
Job Title:
Managing Director
What is your role at RightTrack?
My day-to-day changes depending on the needs of the business, but in a nutshell, I work with the team to go big on innovation. productivity, impact, culture, communication and exciting things like that…
What do you like about your role?
Oooh, I like lots of things about my role; mainly that it's so varied and I have touch points with every aspect of the business. It also means a lot to me that the culture at RightTrack Learning is open and informal so I can always be myself.
I am particularly excited about our new 'We Believe in Brave' ethos and how we are going to reflect that in the work we do and the impact we make on the world around us.
What has been your biggest achievement?
Personally, it's buying a commercial property, taking it back to brick and converting it into a beautiful open-plan home.
Professionally, it is getting through more than a decade of working with my parents which as I'm sure you can imagine, brought with it both highs and lows! But I'll be forever grateful for the opportunity to have spent that time with them; it's been a journey like no other.
Now I have the privilege of taking the reigns and leading the team, with Vicci, into a new post-Covid era.
What does being brave mean to you?
For me, being brave means "feeling the fear and doing it anyway." And that can manifest itself in so many ways throughout life. It could be applying for a new role, learning something new, having a difficult conversation, standing up for what you believe in, being honest, accepting you were wrong, or sometimes it take courages just to get out of bed in the morning.
Life is an incredible journey but there are challenges at every turn and often it takes a little bit of brave to jump over the hurdles we find in our way. But if you do, it brings richness to life and that for me, is what it's all about.
Explain a time you were brave…
A few years ago I struggled badly with depression. It got to a point where I couldn't even make a simple phone call at work without having to go and sit in my car to cry. It was a lonely, dark and desperate time. But I asked for help, did a lot of work on myself, and made some big changes to both my routine and my outlook. I haven't looked back since.
Describe your ideal weekend…
Saturday: Lazy morning with coffee in bed, followed by an Ashtanga yoga class, yummy breakfast, walk with the dog in the countryside (or by the sea!) and the whole afternoon reading a book in the sun.
Sunday: Kayaking on the river with friends, moule mariniere with chunky chips for late lunch, followed by a lazy afternoon on the sofa with the dog and an extraordinarily spicy Virgin Mary getting stuck into a new dystopian-esque TV series.
Follow Claudia on LinkedIn or contact the team at enquiries@righttracklearning.com or phone 0121 222 7313.
Courageous Conversations & Speaking Out
Find out more about our Speaking Out training. Enquire about our next cohort of our open programmes, or train in-house, face-to-face or live-online.