Here at RightTrack Learning, we are very lucky to have such a wonderful team of people, and we want you to find out more about them too!
So, meet Emma…RightTrack's Marketing Content Manager who joined the company in early 2021.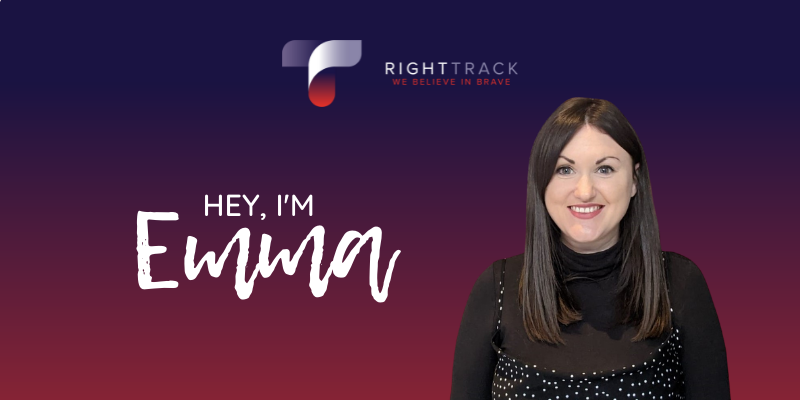 Name:
Emma Baldwin
Job Title:
Marketing Content Manager
What is your role at RightTrack?
I joined the company in April 2021 and I look after the world of marketing at RightTrack! Whether that be managing the website and ensuring our pages are optimised for our focused keywords, creating content for our blog, research, analysing activity or email marketing – every day is varied!
For the past couple of weeks I have been focusing on creating a marketing plan for next year which includes some exciting content!
What do you like about your role?
I am fairly new to the role and to the industry so as part of my induction, I sat in on some training sessions to get to grips with what the company do – so interesting and I really like what the company stand for. I enjoy speaking with a range of people and learning new things.
Marketing-wise, I really enjoy being part of something from creation and seeing it transition … and hopefully also see the success! Also the team are lovely, which is definitely a bonus!
What has been your biggest achievement?
Professionally – being nominated for a 'Marketing person of the year' award in my first marketing role, around two years into my career there. And also getting promoted numerous times throughout my career.
Personally – there's a few! Following my creative side and starting to create wedding and event stationery, raising over £1,000 for Dementia UK in memory of my Grandad and Grandad-in-law, and raising a baby throughout lockdown without the help of family.
What does being brave mean to you?
Being brave to me means stepping out of your comfort zone, no matter how big or small that may be to you or other people.
I think the feeling of brave comes in a different forms – nervous, excitement, fear. It could be being brave through starting a new job, speaking out when something isn't right, being your true self, or getting through something painful. It means facing up to or doing something that scares you, that makes you step back and think about it.
Explain a time you were brave…
Probably a few weeks after I had my son. I had trouble with his feeding and I kept piling the pressure on myself, questioning whether I was doing things right, that in the end I quickly spiraled into a tough place.
It felt like he had been here forever, but in reality everything just changed overnight, and some days I found it hard to deal with.
In the end, I chose to find the help I needed and attended a support group. I remember being so nervous walking into the room on my own with him, thinking they'd judge me because I was clearly doing something wrong.
After one week, it had to close down because of the pandemic but I got the reassurance I needed. It's made me proud of myself for asking for support and I think going there helped me raise him through lockdown too.
Describe your ideal weekend…
Well as it's an ideal weekend, I'm going all out, even though it's probably changed drastically since having a little boy! But in an ideal world, it would include a city break with my other half and friends (thinking Dublin, Berlin or anywhere in Italy – and it would definitely have to be an extended weekend!). We'd spend the time exploring and listening to live music.
And then I'd wake up completely fresh the next day, ready for a massive playdate with friends and family. Seeing my son play with my friends' children and spending time with family is something I've missed out on during lockdown.
To contact Emma or any of the team, email enquiries@righttracklearning.com or phone 0121 222 7313.